Impulsive Sorter

Heads: Shinichi Hirai
Contact: Tatsuhiko Tsuboi

Date: 1997 - 2000

Mailing address:
Dept. Robotics, Ritsumeikan Univ.
Kusatsu, Shiga 525-8577, Japan


Supported by:


Associated lab/group:

Jump to: Project Description | Personnel | Publications | Notes | Related Sites

The goal of this project is to develop a impulsive sorter, which enables fast object sorting with high flexibility. Air floating and sorting using collision enable fast sorting and vision-guided sorting provides high flexibility.

The goal of this project to develop a fast sorting device with high flexibility. Traditional conveyers and feeders can perform fast conveyance and sorting of objects but are short of flexibility. On the other hand, handling robots has high flexibility while cannot perform fast operations. In this project, we will develop an impulsive sorter to perform fast operations with high flexibility. The impulsive sorter has the following properties:
Air floating enables fast object conveyance.
Sorting using collision enables fast object sorting.
Vision-guided sorting provides high flexibility.
The control law of the impulsive sorter will be investigated.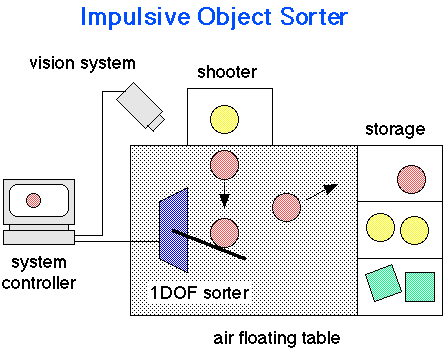 Conferences
Shinichi Hirai, Masaaki Niwa, and Sadao Kawamura, Development of Impulsive Object Sorting Device with Air Floating, Proc. IEEE Int. Conf. on Robotics and Automation, Vol.4, pp.3065-3070, 10.1109/ROBOT.1999.774064, Detroit, MI, U.S.A., May 10-15, 1999